Is She the Greatest or What?
My favorite designers are the ones where you can take one look at their designs and automatically KNOW who you're dealing with. If Betsey Johnson doesn't define this, no one does.
She is just in a whole other world and I love everything about her designs.
The beautiful, fun, and deliciously original Fuchsia Donut Cross Body Bag
shown here is Betsey Johnson at her best.
Click through for more information.
From Amazon: New York designer Betsey Johnson has built her long-standing career in fashion by following her own set of rules. Known for her celebration of the exuberant, the embelished, and the over the top, Betsey has been rocking the fashion industry with her unique and original designs since the 1960's. Betsey Johnson, both the woman and the label, is constantly moving forward and continues to keep a strong foothold in the fashion industry with no signs of letting up anytime soon. Her love of detail and design is evident in everything she does in life and in business. Her enthusiasm, creativity and boundless talent that have kept her at the forefront of fashion for the past 40 years will keep Betsey going for years to come.
See Fuchsia Donut Cross Body Bag
 for a closer look.
Another Classic Bag from Betsey Johnson:
Betsey Johnson Milk Carton Cross Body Bag
Conditions without Leaving Your Hair Flat... Plus it Smells Like HEAVEN!
When it comes to my hair smelling fantastic, I am obsessive, to say the least. I'm one of those who can be found at any given time in the hair care aisle smelling the shampoos and conditioners before putting them in my cart. It's like, "Don't tell me what you'll do.. show me how you smell!"
Haven said that, I do have strict guidelines that don't involve my nose:
I want my ends to get all the moisturizing conditioning they need.
I don't want my roots to be limp, flat, and lifeless!
Striking a balance between those two… while achieving the Heavenly aroma my nose insists upon..  can sometimes pose a challenge. I'll find a brand that takes care of one – or maybe even two – of the stipulations, but fails miserably with the third.
OGX products are a dream come true for me because they absolutely NAIL each of the three.
You won't find a better smelling shampoo OR conditioner and the quality is as good as it gets. It's like salon-quality at a Target price.
JUST what I'm after.
The most recent OGX conditioner I tried is shown here, OGX Weightless Hydration Coconut Water Conditioner
. My ends are nourished and look healthier than they have in a long time, but my roots weren't compromised. They're not lifeless and flat like a lot of conditioners leave them.
Maybe even best of all… the aroma is to die for. I've tried just about every scent OGX has and, to be honest, they do not have a bad one. You can't possibly go wrong with this brand, but my personal favorites are the Coconut and Coconut Water – what can I say, I have a thing for coconut.
Click through for more information. I 110 percent recommend these products!
You WILL NOT Believe the Price on This Beauty!
The beautiful
Women's Bucket Tote Handbag Purse
, shown here, has a lot of things going for it – great looks, perfect color, ideal size, and a price that'll leave you boggle-eyed.
How does under $8.00 sound?!
I thought it was a misprint when I first saw it, but noooooo, there are actually bargains left in the world. Who knew?
See Women's Bucket Tote Handbag Purse for more information. This one's so affordable, it'd be nuts not to buy a few for Christmas presents.
There's Nothing About These I Don't Love
I LOVE all things Betsey Johnson, but these earrings may just be the most Betsey Johnsonest things of all time. These Betsey Johnson Gold-Plated Bumble Bee Drop Earrings
are deliciously characteristic of this one of a kind designer.
One look at them and you know who designend them. That's one of the things I love most about Betsey Johnson – her designs are as unique, fresh, creative, and distinctive as she is.
You'll never mistake a Betsey Johnson for anyone else!
Click through the link or picture above for more information. You can find TONS of equally wonderful Betsey Johnson on Amazon
(jewelery, clothes, bras, handbags and more!)
Pewter, Dark Grey, Black, White, and Beige (I'll Take One of Each, Please and Thank You!)
The gorgeous hobo bag above is the
MG Collection Samantha Weave Pattern Belt Accent Soft Hobo Bag
and it's my purse crush of the moment.
A moment I'm pretty sure isn't going to end.
I love that there's an option of using the strap or handles – I'm all about having that option available.
This particular handbag comes in Pewter (pictured at the top), black (pictured below), white (pictured below), beige, and dark grey. Each is gorgeous.
Click through any of the links or pictures for more information and a closer look.
Angel Rain, Sweet Temptation, Neon Heat...
If you love OPI, Essie, and China Glaze, you're going to love Orly. It's quality nail polish, but affordable (tell me that's not rare these days).
The color at the top is Orly Nail Polish – Sweet Temptation
and it's just one of the Orly shades we're loving for summer. Click through the shades below for a closer look AND to see even more beautiful shades.
Seriously. I absolutely love these!
Orly Gumdrop
(above)
Orly Neon Heat
 (above)
Orly Bare Rose
 (above)
Orly Mash Up-Mayhem Mentalit
 (above)
Orly Angel Rain
 (above)
Available in two Equally Gorgeous Color Combinations
I'm absolutely crazy about this great looking
Aldo Sans Top Handle Bag
. Beautiful, sophisticated,  "expensive looking" without the price tag to prove it, and downright sexy, it's an ideal Handbag of the Day.
A little word about the handbag of the day… sometimes, "Life happens" and you get off track, right? Suffice to say, life has been happening in 2015 at an alarming pace and our Handbag of the Day practically became a Handbag of the Month.
Okay.. okay, you're right, it was more like Handbag of the Year.
All's well that end's well (for now, anyway!), so the Handbag of the Day will now actually be the Handbag of the Day on a normal basis.
Normal. I do like the looks of that word.
The beautiful Aldo Sans Top Handle Bag was also, at one time, available in a beautiful orange and pink color scheme – you could always click through and see if you can find it on Amazon too.
Or, maybe you're like me and are too wild at this particular bag to look at another! In either case, click through for more information and a bigger picture.
100% Polyurethane

Imported

Polyester lining

Zipper closure

21″ shoulder drop

10″ high

11″ wide

Shoulder handbag in color- and pattern-block motif with snakeskin textured front pocket and gold-tone hardware

Dual top handles and cross-body strap

One interior zip pocket, three other interior pockets, and one exterior pocket
P.S. We do hope your 2015 is more reasonable than our 2015 has been. If not, maybe Spring will bring better days for all of us!
Seriously, How'd We Ever Live Without Hoodies???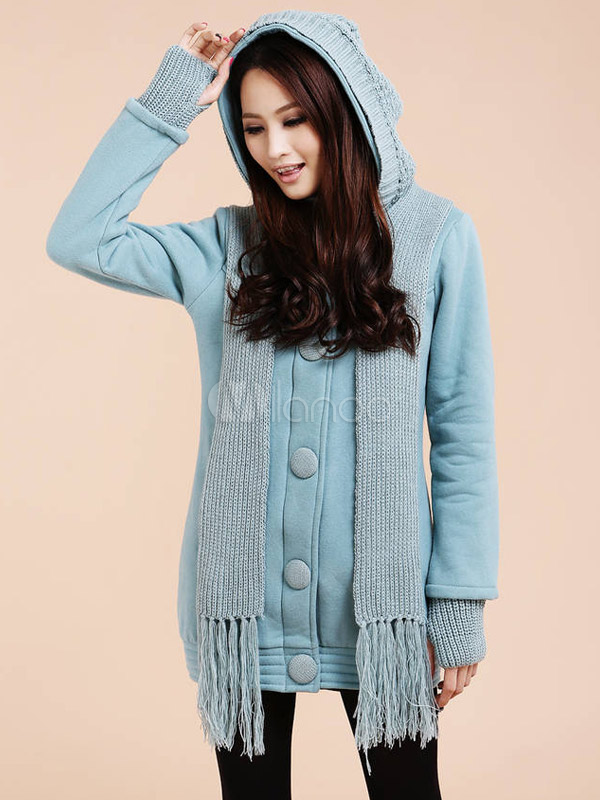 The
Casual Cotton Women's Hoodie
, shown here, is from Milanoo which means three things…
It's quirky, unexpected, comfortable, and can be worn throughout most of the year.
Click through the link or image for a closer look and more information. While on Milanoo's website, be sure to check out their WIDE variety of leggings. They have patterns and colors you won't find anywhere else.
Words are Powerful - Rafaelian Gold Finish Bangle
These beautiful Alex and Ani Bracelets are hugely popular these days, with lots of people collecting them.. I can certainly see why. They are gorgeous! It's hard to find them offline in certain areas so grabbing a few online is probably your best bet. I'll be posting more very soon but here's a gorgeous one to start off with! There are more on amazon so click thru and you can check out the other ones, including "Spiritual Armor", "Path of Life", "Eden's Equinox". I cant wait to get my first one!
Alex and Ani Words are Powerful "Everything Happens For A Reason" Bracelet